Automated label applicators
GBE – label applicator with an extensible bracket

Položte dotaz
All of us have got used to seeing labels with description and bar codes. But just few people can think of the process how this label gets to that box, bag, TV set or a tyre. In a reduced volume a skilful operator can manage, but when the particular item must be labelled with a serial number and all this within a few seconds or all the pallet covered on a conveyor belt with an expedition label of A5 or even A4 fomat from each side, we should ask a question if there isn´t any faster, more accurate and sophisticated solution.
GBE applicator is able to label the particular item with a serial number within a few seconds or to cover all the pallet on a conveyor belt with an expedition label of A5 or even A4 fomat from each side.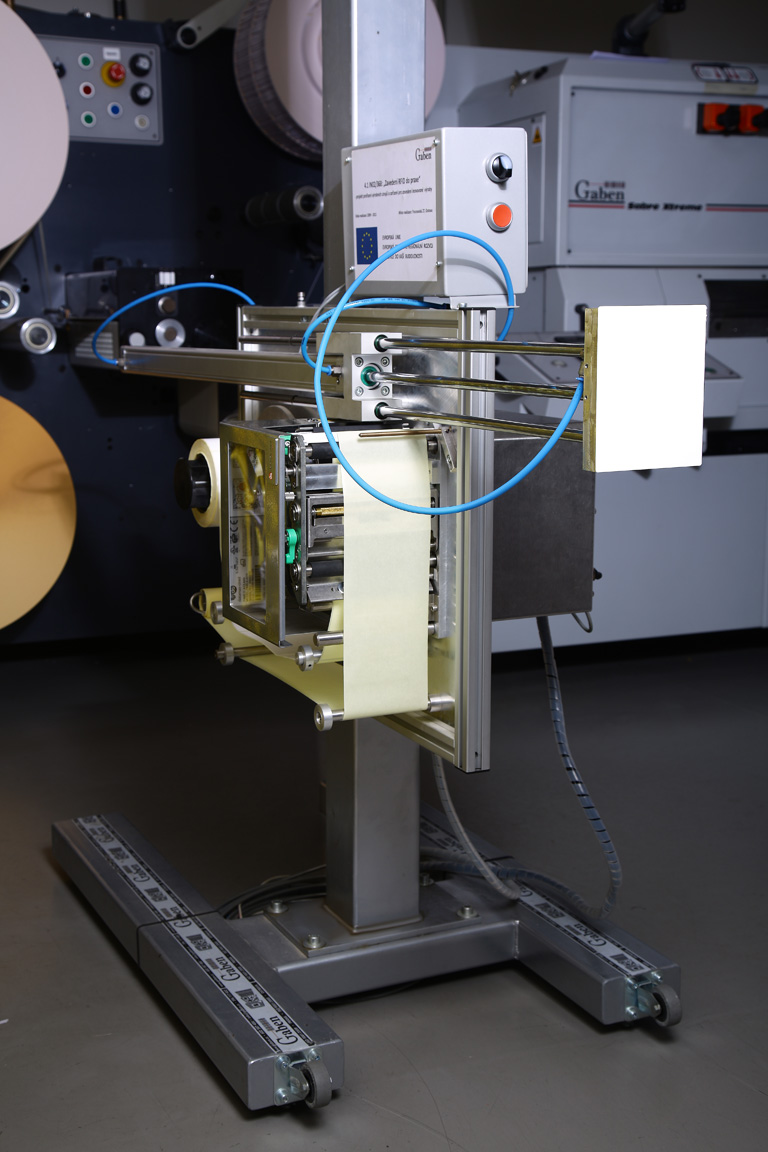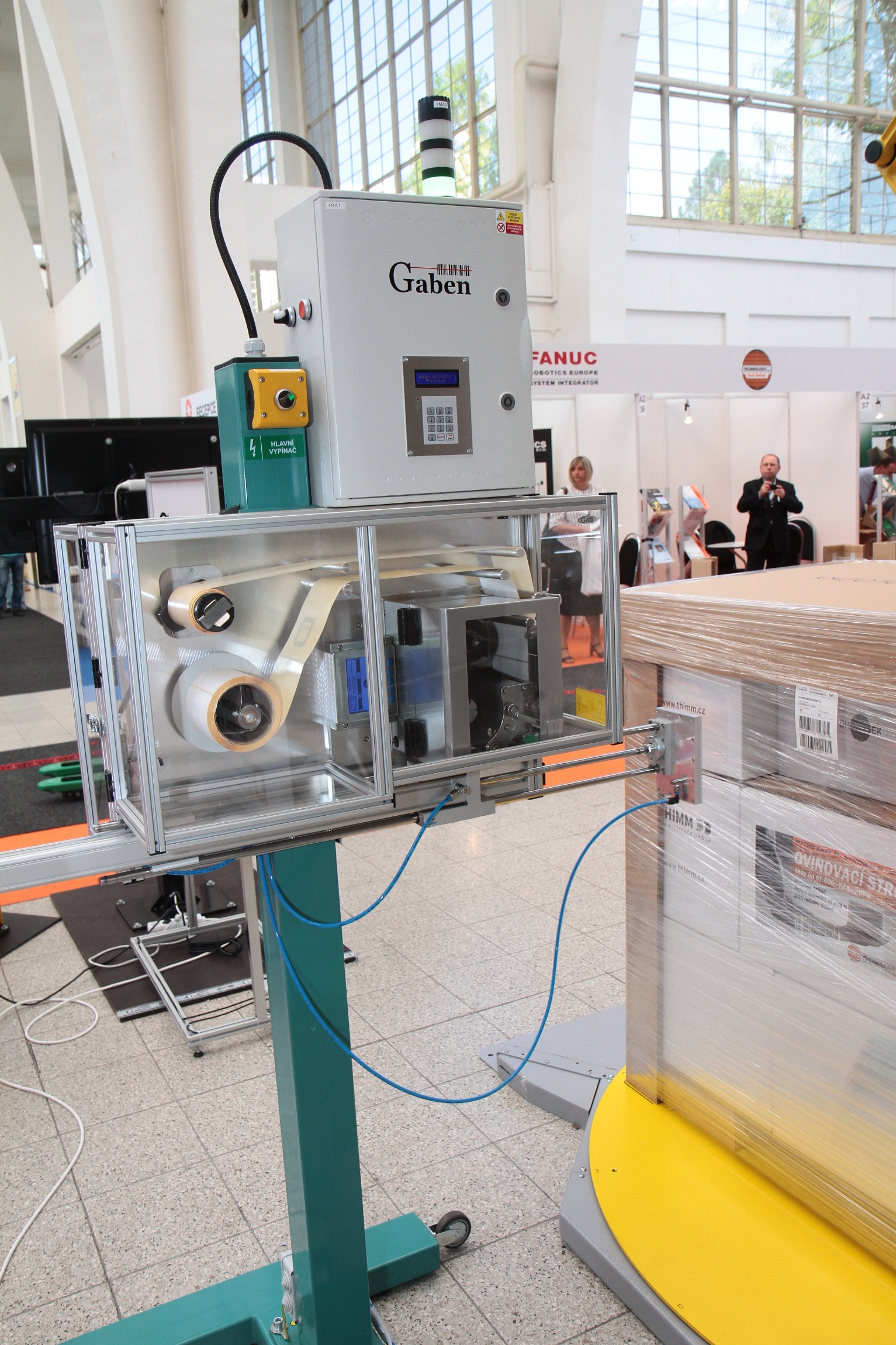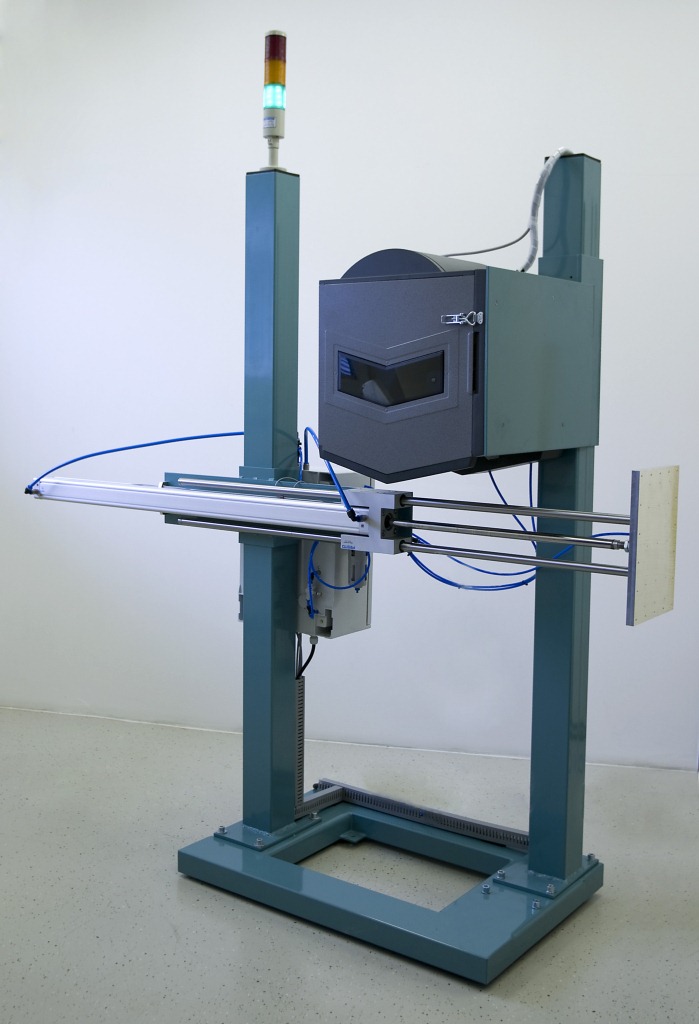 It can be used everywhere when there is a need to label any product or item (automobil control units, parts of electric motors, radiators, printed wirings, pallets, tyres, box merchandise) with the emphasis on efficiency, precision and quality.
These label applicators are focused on the principal issues, which were set more than 12 years ago when the first applicator of ours was manufactured. Since then we have manufactured dozens of applicators and it is the greatest reward for us to supply a plant with the equipment, where our appliances were installed even before. We can then be confirmed of satisfaction not only with the applicators but also with GABEN company.
The principal issues, which the stress is put on in the manufacture, have been:
reliability – even our first applicator is still in operation
accuracy and precision – we have repeatedly supplied our applicators to a company specializing in a manufacture of automotive systems
simple operation and manipulation – it is the key matter to minimalize mistakes and defects on the user side
added value of GBE brand – GABEN – we do not supply just "metal cases" ! Even by configuring we actively enter the draft of functionality and each requirement or demand is being discussed with the customer so as the best function of the applicator could be reached. Each label applicator is thus an original, which is adjusted during the technology assemblage and if it is needed also the application system of control and operation is adjusted. We are open-minded to our customers requirements and demands for any additional and subsequent adjustments. We are the manufacturer of these applicators thereupon we care about using quality entrance components, where everything is submitted to the long-lasting smooth functionality.
By the manufacture and project of GBE applicator the latest and up-to-date technologies and components were used, which can quarantee a long-life and smooth operation. Due to a standard output signals it is quite easy to put the applicator on new or existing produuction lines with own operation. The applicator is equipped with a high-performance control terminal with extended operation options and monitoring the state of applicator including the connection to the company ERP.
The applicator construction
Sturdy aluminous boosted chassis with resistant cases creates a compact and functional industrial aggregate.
GABEN electronics – an innovated control card specially developed for a communication with superordinate systems and equipment.
Print module – for smooth operation and a long lifetime period.
FESTO, SMC pneumatics – all pneumatic components are of the highest technical level.
Application head – specially designed for label attaching with the possibility of application in any position with the accuracy up to 0,2 mm.
Information and navigation systems – a warning beacon and LCD screens notify the actual operation state of the applicator.
The applicator components


Gaben - GBE control card
Specially developed control component, which co-ordinates collaboration between a printing engine, pneumatic components and simultaneously between the applicator itself and the external environment (Simatic, linka, PC). An output to optical state indicator is taken for granted.


Printing module
In the applicators the printing modules DATAMAX A-Class or H-Class are used. The particular types differ in various configurations, these specifications are considered to be the most common criteria:

maximum printing speed of articles of consumption from 152 mm/s up till 305 mm/s
resolution of printing heads DPI: 203, 300, 406, 600
width of printing heads 110 mm or 216 mm for pallet labels printing of A4 format or smaller
a thermal transfer printing module
RFID module and others...



Pneumatic part/section
The application is carried out due to a system of pneumatically operated valves, detectors/sensors and cylinders. An access to compressive air with stable pressure is thus needed.


Information systems
Various additional peripheries for production line operation or for an operator´s information can be connected to the applicators:

LCD screens with a display of informative or error messages (running out of articles of consumption, cover/case opened, production line error and others ...).
Camera systems monitoring sticking and spreading of areas on the label and product
Verifiers and scanners checking the readability and accuracy of printed bar codes
Warning signal heads and signal lights
Audible warnings and other ...
Manufacture, support and service GABEN
GABEN company belongs to the leading domestic producers of these industrial systems with a long-standing experience and stable company background. At the same time GABEN is an authorized service partner of Datamax-O´Neil. We are certified by the quality control system in accordance with ISO 9001:2009 standard. Engineering department comprises of a team of qualified developers and experienced technicians with high level expert and professional knowledge and skills.
For the applicators a non-stop technical support has been provided with the alternative of an instant service intervention 7x24 (7 days a week, 24 hours a day).
Technical specification
The particular cycle of the application and its length are dependent on the way of application, label size and further user demands (camera control of the product, reading up of the bar code after the application and so on). In respect to the used technology the interval between the application can be at minimum 2 s and longer.
| | |
| --- | --- |
| Type and size of the medium | stick-on labels in rolls, 9x9 mm up to 210x297 mm |
| Air pressure | 4 bar < max. 50 l/min |
| Dimension | 800 x 530 x 440 mm* |
| Weight | 30 kg (according to the version)* |
| Operating temperature | 0° C up to 38° C |
| Power supply | 220 V, 50 Hz |
*The applicator is manufactured in accordance with the customer´s requirements for a particular types of applied and labelled products, this is why the technical specification may be varied from the specific piece and version.

Print module:
| | | | | | | |
| --- | --- | --- | --- | --- | --- | --- |
| Model A-Class | A-4212 | A-4310 | A-4408 | A-4606 | A-6212 | A-6310 |
| Printing quality (DPI) | 203 | 300 | 406 | 600 | 203 | 300 |
| Max. print width (mm) | 104 | 105,7 | 104 | 105,6 | 168 | 162,6 |
| Max. print speed (mm/sec.) | 304 | 254 | 203 | 152 | 304 | 254 |
| Label size (mm) | 22-118 |   |   |   | 50-170 |   |
| | | | | | | |
| --- | --- | --- | --- | --- | --- | --- |
| Model H-Class | H-6212 | H-6310 |   |   |   | H-8308 |
| Printing quality (DPI) | 203 | 300 |   |   |   | 300 |
| Max. print width (mm) | 167,9 | 162,6 |   |   |   | 216,4 |
| Max. print speed (mm/sec.) | 304 | 254 |   |   |   | 203 |
| Label size (mm) | 50-170 | 50-170 |   |   |   |   |
Potential alternatives:
| | | |
| --- | --- | --- |
| Side application (floor projection) | Upper application | Side application |
| | | |
More info www.aplikujte.cz (Czech)