Robust touchscreen GBTouch
GBTouch...
This top-class industrial stationary terminal with large touch screen is an excellent solution not only for industrial applications.
GBTouch is "All in One" industrial LED Full HD stationary touch screen multimedia terminal to display manufacture documentation and to inform about production cycles finalization, including connection and communication with interactive information systems. We guarantee that the system will occupy only minimal space at your production environment due to its compact, but robust structure. Various selectable touch-up technologies of the terminal will secure maximum comfort for your application handling. No less important advantage of this unit is its minimal power consumption and structure made from components with longevity in hard industrial environment.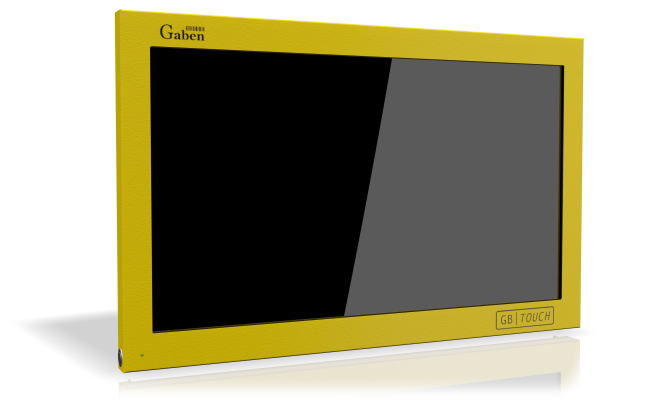 Paperless production in Siemens Electric motors Frenštát plant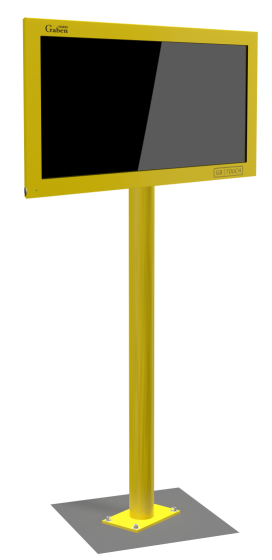 Features and characteristics
All-in-One
GBTouch is equipped with an energy-saving LED display, built-in single-board computer and the operating system Windows 7 Embedded.
Designed for a demanding environments
All hardware components are designed for the demanding industrial environments and continuous/non-stop operation.
Durable structure and display
Display GBTouch is protected against damage by a safety glass. The whole GBTouch is protected by all-steel body of own production.
Low electric power consumption
GBTouch is constructed of energy-efficient hardware components.
Practical compact design
The tailor-made fit requires only a minimum of space at a workplace.
Quick Start System
A PC Client equipped with an SSD disc, which ensures a quick start of the system, is a part of the GBTouch terminal.
Easy upgrade
In case of increased demands for hardware (hard disc, RAM) the components can be easily replaced or supplemented.
Distinctive color
A high-visibility colour of a screen cover/case and a supporting structure can be chosen in accordance with the customer wish. A durable powder paint KOMAXIT is used for the surface treatment.
Innovations
We are constantly working on structure innovation and improvement as well as implementation of the latest hardware technologies.
Service
A guarantee as well as the post-warranty service are taken for granted.
The Czech product
GBTouch is manufactured in our headquarters in Ostrava.
Large selection of accessories and equipment
The GBTouch offers a large scale of optional accessories, which can be chosen of, such as: barcode scanner, employee card reader (RFID), the numeric keypad, ESET security software, Wi-Fi Adapter
Modular construction

Specification
Display
Model

GBTouch 24"

GBTouch 42"

Screen Type
STANDARD / PLUS
STANDARD / PLUS
Touch Technology
IR / PCT / R
IR
Display
LED Full HD 16:9 
LED Full HD 16:9 
Screen Size
 24" 60 cm
42" 107 cm 
Resolution
1920 x 1080 @ 60 Hz
1920 x 1080 @ 60 Hz
Brightness
250 cd/m2 (Standard)
300 cd/m2 (Plus)
350 cd/m2 (Standard)
500 cd/m2 (Plus)
Viewing Angle
min. 150°/typ. 176° (Standard)
min. 160°/typ. 178° (Plus)
min. 150°/typ. 176° (Standard)
min. 160°/typ. 178° (Plus)

Constrast Ratio

 3000:1
3000:1 
Dimension (HxWxD)
38x60x8 cm 
70x120x15 cm 
Weight
10 kg
35 kg 
Built-in Speakers
2x2 W 
2x10 W 
PC Client
Processor
PC 1) AMD GX-210HA (Dual Core 1.0 GHz/9 W) 
PC 2) AMD GX-217GA (Dual Core 1.65 GHz/15 W)
Operating System
Microsoft® Windows™ Embedded Standard 7
Microsoft® Windows™ Embedded Professional 7
Linux
Memory
PC 1) DDR3 1333 MHz SDRAM 4 GB (max. 16 GB)
PC 2) DDR3 1333 / 1600 MHz SDRAM 4 GB (max. 16 GB)
HDD
mSATA SSD 32, 64, 128 GB (possible expansion)
Graphics
PC 1) AMD Radeon HD8210E, integrated on motherboard
PC 2) AMD Radeon HD8280E, integrated on motherboard
Audio
HD Audio Realtek ALC 671, integrated on motherboard
I/O Ports
2x LAN RJ45, 4x USB 2.0, 2x RS-232, 2x PS2, Audio IN/OUT, DVI-I, DisplayPort
General Information
Power Supply
230 V, 50 Hz

Nabízíme také v provedení s externím zdrojem umístěným mimo panel a napájením 24 V.
Power Consumption

Display: 24" 24 W (Standard), 36 W (Plus), 42" 75 W (Standard), 160 W (Plus)
PC client: 9 W (processor AMD GX-210HA), 15 W (processor GX-217GA)

Frame Color
Black, Yellow, Turquoise, Red, Blue, Green, White
Mount
Black, Yellow
Design
All-metal cover
Manual control
Touch button ON/OFF with LED indication
Mount
VESA
Operating temp.
24" 0 °C to +50 °C (Standard), -20 °C to +50 °C (Plus)
42" 0 °C to +50 °C (Standard), 0 °C to +50 °C (Plus)
The initial incentive
We have come to the decision to produce our own industrial displays on the basis of our experience with the purchased displays, which were implemented into the key processes of our customers, with an operating schedule 7 x 24 and a guaranteed repair time of 24 hours at maximum. The period of guarantee repair of Asian products (if it is possible at all) can last for months and this is why it is necessary to have in reserve at least one spare part for each installed one. Regardless of other problems associated with the compatibility. Products of the renowned brands are for a larger number of customers, compared with the purchase prices of Asian products, unacceptable. We smashed this vicious circle by developing our own "display panel", which was supposed to comply with several prerequisites:
Competitive price among Asian low-cost and global brand products
Maximum promptness of repair and spare parts availability
Variability in design and mounting options
Possibility of an installation of standard OS versions as well as Embedded ones
Possibility to display an industrial documentation
The possibility of integration of peripherals for an automatic identification
The result is an industrial touch screen/display GBTouch, which has been successfully installed into the operations of the leading domestic companies for three years. Several hundreds of devices are used by companies Siemens, Continental, Semperflex and others. Here everywhere with a guaranteed repair time up to 6 hours without any need of own service kit and hidden costs. For corporate customers the system Win 7 Embedded is installed, which enables, in case of need and owing to the system adjustment, to remove the computer from the domain security policy and thus significantly reduce the operating costs.
With GBTouch you will get "a turnkey project" without any prospective functionality disputes. With a guaranteed service and for a significantly lower price than other similar solutions.
Links